I'm doing this again this year! I got too busy with my first semester back in college last year and ended up skipping it, but I've had do plan some other things ahead this year so I thought I'd get this album all ready to go for a month of fun stuff. A couple of months ago I was at Michael's and saw these super cheap (like, $5) two-packs of chipboard albums. I bought a couple of them because I like to make minis, and I decided to use the largest one for my December daily. It ties shut and it has waterfall style pages inside. I'm really happy with how it turned out with just a little bit of planning. Let me show you the cover before I talk about the details though 🙂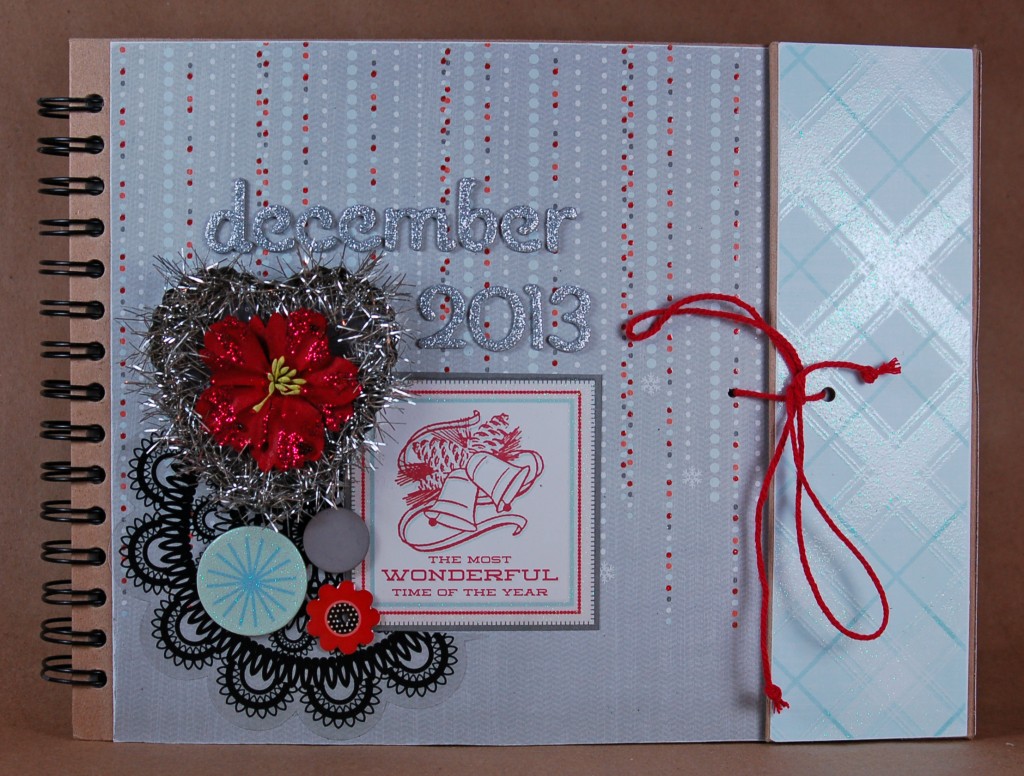 Pretty and sparkly! Once I decided to do the December daily, I also decided that I wanted to make things as easy as possible on myself. I bought a stack of Christmas themed paper by Die Cuts With a View at Michael's, and I got matching Thickers for the front title. Everything else was from my stash. I just didn't want to spend a bunch of time pulling papers and coordinating it all. The stack made it easy. I would have preferred a paper pack with some extra matching stickers and embellishments, but I didn't have the time to go over to the LSS and didn't like what I was seeing online. Sometimes you just need to hold that paper in your hands to see whether or not you really love it 🙂 Let me show you what I mean now by "a little bit of planning."
Once I decided that this was the album I was going to use, I went through and counted the number of pages. I knew that I'd be combining days onto each page, so I went through and marked them out for the different days. Some days I divided horizontally, some vertically, and for big days where I knew there would be a lot of photos (like Christmas) I saved a whole page. That's all I did for planning. It really didn't take long and it made things go really fast once I started sticking things together.
As for that, you know I stuck everything together with my Xyron goodies 🙂 The Creatopia was awesome for all these big pages and pieces of paper. I just ran everything through at once after I got all my papers cut for the pages. Step one (after planning) is to decide which papers you want to go where. Then I cut them to size and make them sticky. Taking photos of your planned layout helps because you won't be able to see those pencil marks once your stuff is all attached over them. After that, I cut strips to use to divide up those pages, those are attached with Xyron as well. I had a bunch of different (mostly flat, so that the book will actually close) embellishments and I added them to the pages as I went along. The dates were added with a combination of cut out shapes from one of the papers in the stack, numbers from my pack of Thickers, and stamped, punched numbers. Let's look at those pages!
See? Just a few embellishments per page.
Some things are stickers, some are punches, some are die-cuts. I left a full page for Christmas Eve (usually a big celebration at my brother and sister-in-law's house). I didn't put journaling pieces for each page, I decided that I would add those as I go. I'll talk more about that in a second.
My plan is to take all my my photos this year on my iphone. I'll probably use Instagram and then one of the printing services that a friend has used for their photos (need to look into those). Anyway, I'll set reminders to take photos every day so that I don't forget, and I'll write a little something about those photos on a post-it note and stick it in the book. Then, I'll put the photos I order and my notes together in the book once I have it all and I can be sure to have journaling spots that fit my needs. Make sense? Plus I'll have more time after the month is over. Little work now and plenty of album enjoyment when the holidays are over 🙂
For more December Daily ideas, be sure to look around Pinterest and check out the queen of it all, Ali Edwards. I hope you like my little album and that you find an easy way to record your memories from this month!