So this week Xyron and BoBunny have teamed up to bring you some projects.  I have loved working with BoBunny for a long time (if you saw what I taught at the Mesa CKC last year, you know that.  It was all about BoBunny!)
This week I got to work with the Trail Mix papers and embellishments and a Serenade mini album.  I really love making minis, and I want to walk you through this one.
BoBunny does most of the work for you!  If you're afraid of mini albums and don't know where to start, these are amazing.  You don't need a bunch of papers to add on and you can add as much or as  little embellishment as you like.  I kept mine simple because I wanted this one to lay pretty flat.  But let's start with the process.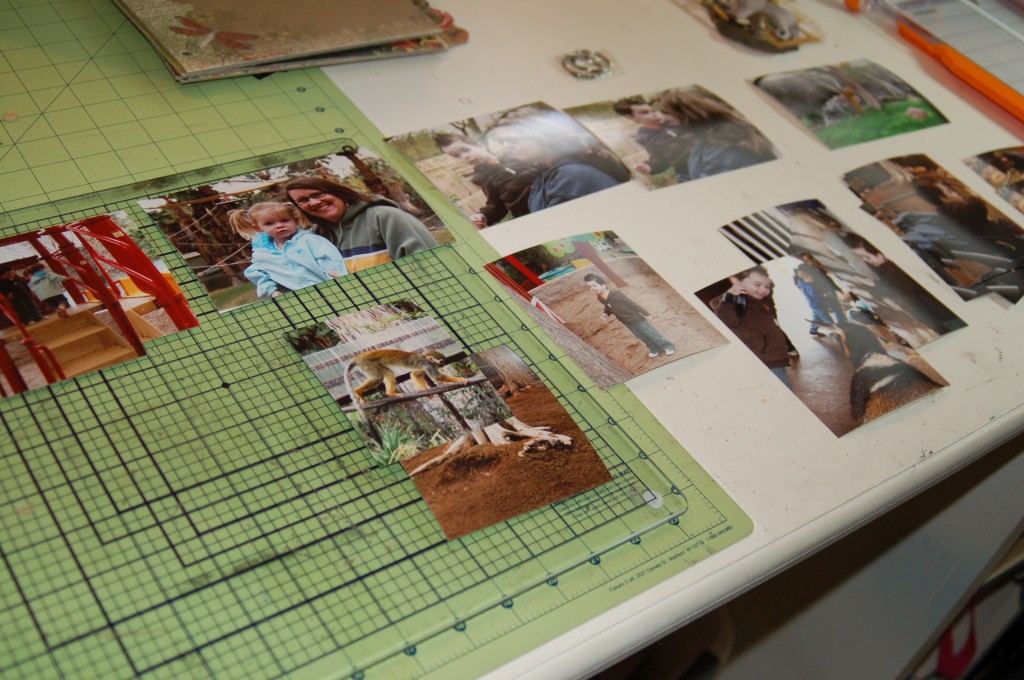 Here they are narrowed down and sort of placed in order.  I counted the number of pages in the book to figure out how many photos I would need, then I layed them out in a sort of order.
I do a sort of dry run next where I lay the photos in the book to make sure that they fit and look good on the pages.  I trim them up when they need it and switch things around  if I have to.  Nothing is attached yet, but you can really get an idea of how your book will look without worrying about messing anything up.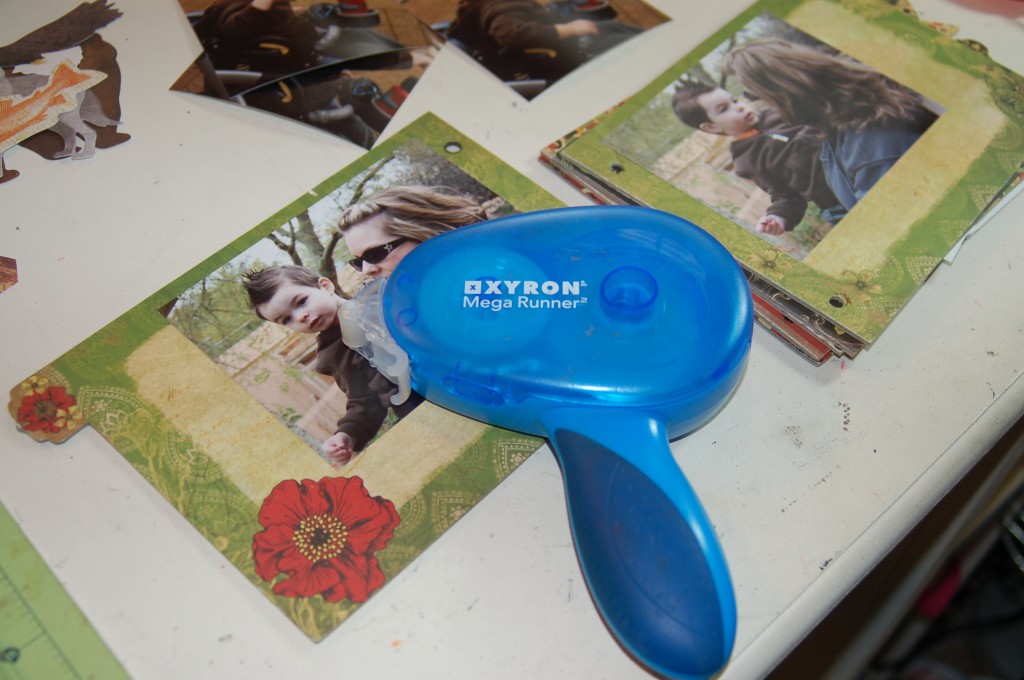 My next step was to attach everything with my Xyron Mega Runner.  You can certainly use your machines for this if you'd prefer.  For this one I decided that my Mega Runner would do the trick.  I did leave a little space on each page for some journaling type of embellishment.
I only used the journaling pieces like this on the pages that were too dark write on with my brown journaling pen.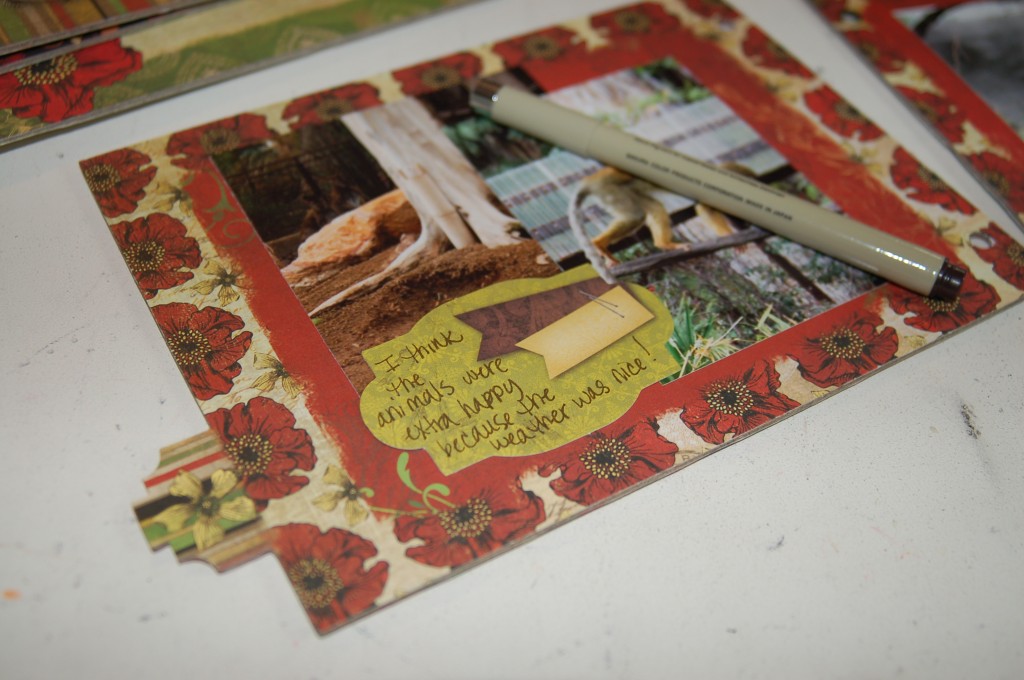 This is the type of pen that I used.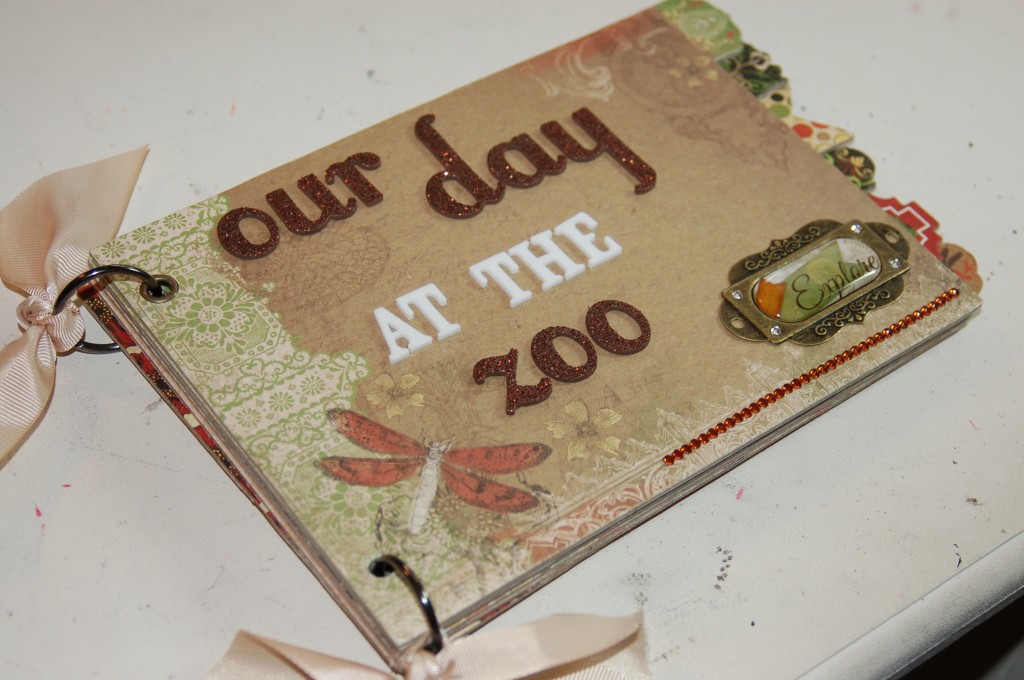 To finish the album I put the pages together with the rings that were included and added some ribbon over the hinges.  I also added a title with some foam letters and some of the embellishments that matched the Trail Mix collection. (And while we're here, check out those tabs!  I love that part of the album.  Carry on).
There you have it!  So simple that anyone could make it and really an easy way to start out with mini albums.  I would suggest trying these for sure.  I just saw some other patterns at the LSS last week and had to hold back a little bit because I really wanted to buy some (but had promised to go easy that day).  Here is the inside.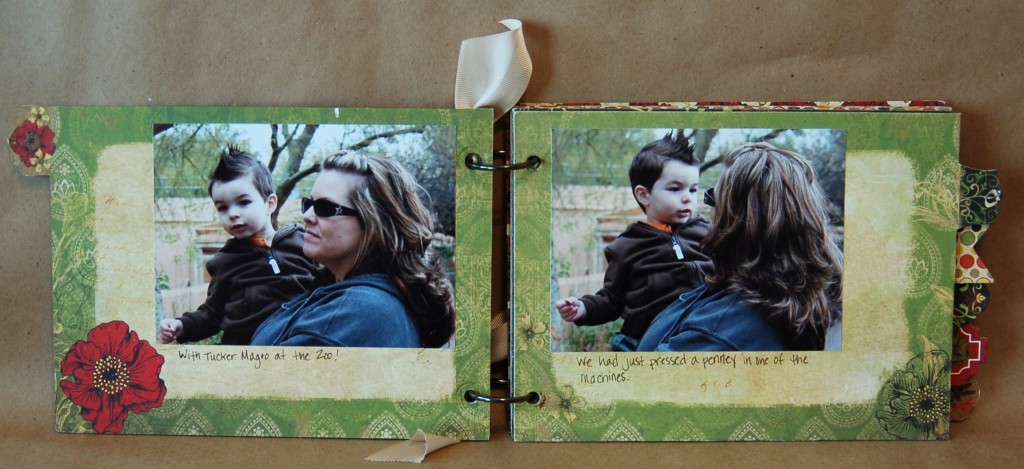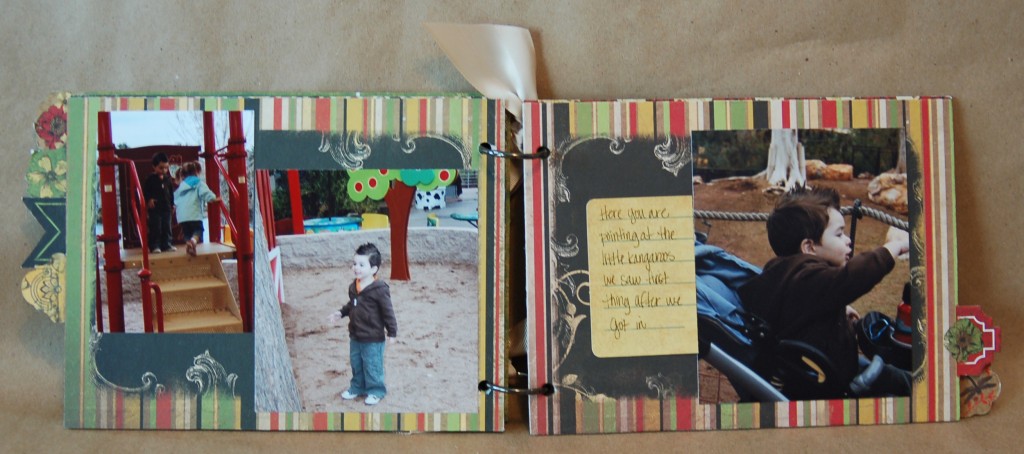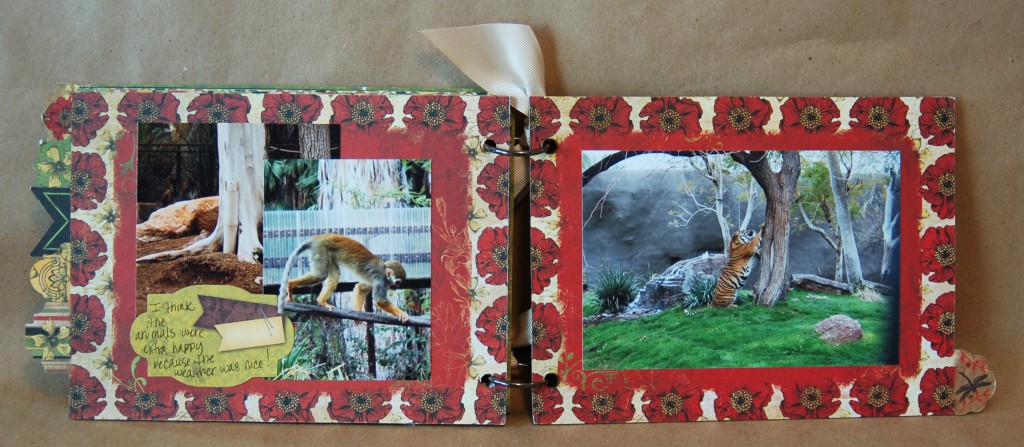 Now I have a couple of cards to share with you that I made with the Trail Mix paper and embellishments, and a quick tip for cards too.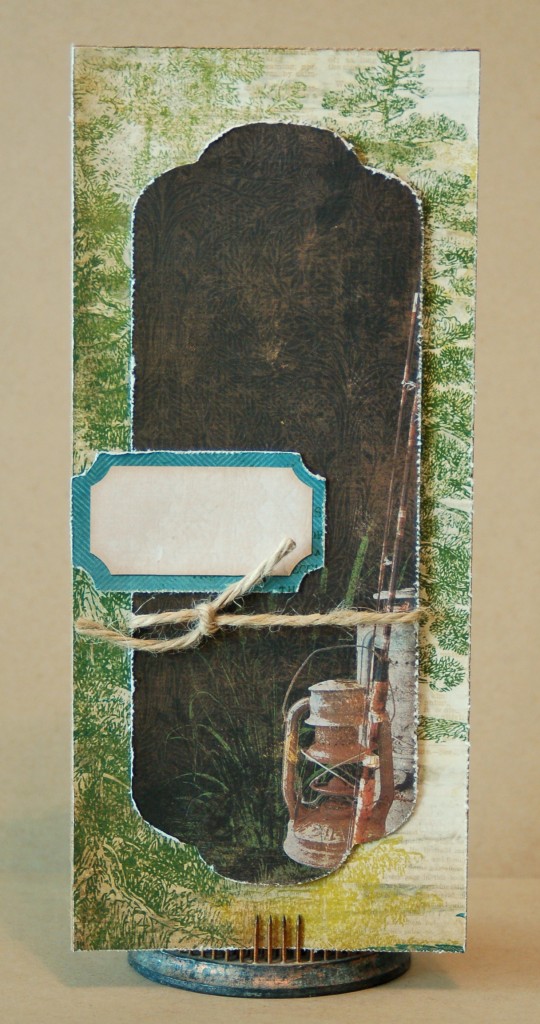 This card was originally going to be a Father's Day card, but then I decided to leave the area for the sentiment blank.  This way, you can add the sentiment at any time, especially right when you need it and the card will be ready for any occasion.  I have a lot of cards that have the right sentiment but are too girly, know what I mean?
This one is so different from anything I normally make, but I really like the way it came out.  Those metal embellishments by BoBunny are some of my favorite things.  The assorment that comes in the pack of buttons and pieces like this one are always so pretty and I think it adds that perfect something to this card.  This is another one that I can use for any occasion.  Especially a quick note to say hello.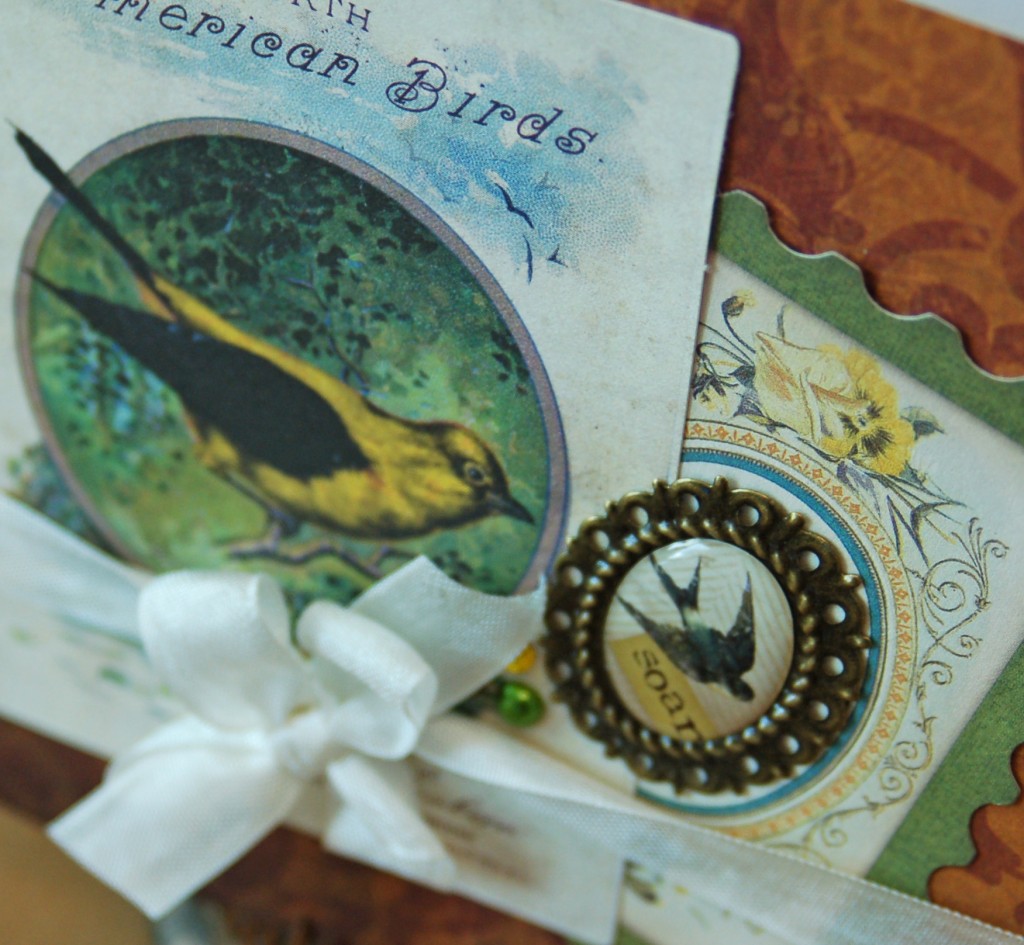 Well, that it is for me today!  I hope you have had fun checking out my projects and that you will be sure to stop by the Xyron blog and see the other DT member's work on there.  There will be a lot of good stuff on there this week and you won't want to miss it!