Hey peeps!  This week the Xyron DT is remaking some of the older projects in the gallery.  We've all been given something to re-imagine and the results have been fabulous!  This is what I was given to remake…
Now, what I took away from this and was inspired by are the pots and the fact that they're bugs (actually not being technical on the difference between bugs and insects.  Don't judge!).  I thought about what other bugs I could make with pots like these and butterflies were the first things that came to mind.  These are what I made.
I didn't paint my pots, but you certainly could and it would be an extra fun way for kids to get to help with the project.  My butterflies are a little fancier, but make them easy for children to make by having all of your pieces cut out ahead of time and by using paper instead of wire for the antennae.  Here's how I made the most detailed version (and a quick explanation for the simpler one).
I used a Sharpie to trace around the wide edge of a pot so that I could cut out a circle of my foam adhesive sheet that I made with my Xyron.  This is what holds the whole thing together.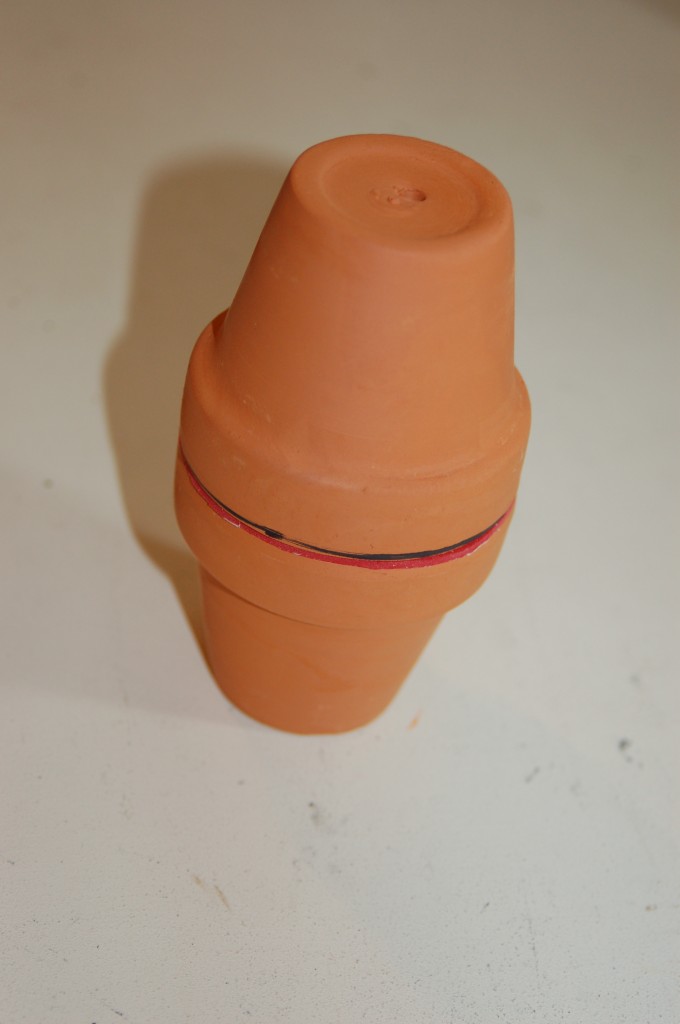 That is how it holds it all together, sandwiched in the middle.  I cut a piece of ribbon to add some detail and hide that seam where the pots come together.  The Xyron 150 is my favorite for attaching ribbon!
Just hide that seam in the back, we'll cover it with wings later.  Now I had to decide how to make my wings.  I chose to use vellum and Bazzill bling (because when else will I get to use purple bling paper with four boys in this house?).  I also used One of the Xyron Creatopia die sets by Spellbinders.  This make cutting the wings out soooo easy!
I cut out my first set of wings with the larger dies, then cut a frame out of them using the next size down.  I also cut out my vellum pieces in the larger sizes.  Here's how they come together…
Run those frames through the Xyron 510 and just lay them on top of the vellum pieces.  Easy peasy. (Vellum pieces are in the background there).
Now to make some antennae.  I just used one long piece of heavy gauge wire and pliers to bend it into little spirals.  This piece needs to be a little long because you'll use it to attach the head later.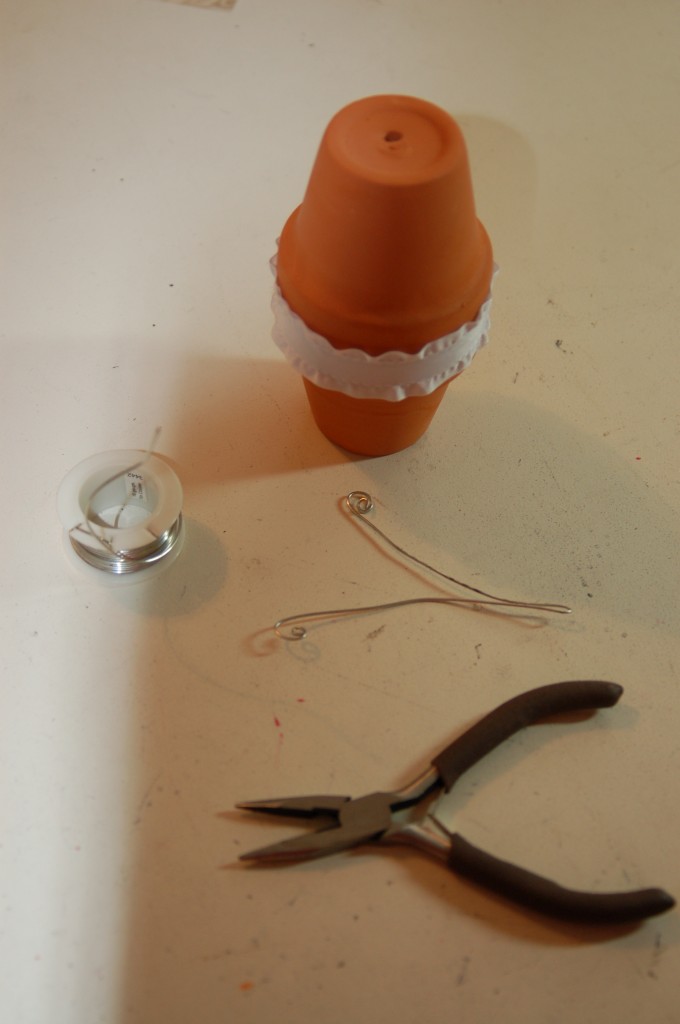 I made the head next.  I used some Maya Road chipboard (all ready to go so it made it easy to choose a size to work with).  I ran two of the same pieces through my Xyron 250, trimmed the backing paper around the edges and ran them through again.  This way I had one side to glitter and one side to use to attach them.
I used a purple Martha Stewart glitter to make those butterfly heads sparkle!
I know they look sloppy, but we'll fix that when we stick it all together next.
I cut another sloppy piece of foam adhesive and attached it to the top of the pot first.  Next I bent the end of the metal piece so that it would be a sort of stand for the head to rest on and attach to the pot.  I laid a punched circle of paper over the top to be sure that it was on there for good, then I added the two head pieces to the front and back of the wire like you see above.
The face is another punched circle with a simple face drawn on it.  I inked it around the edges to add some dimension and then attached it to the front glitter piece with more dimensional adhesive.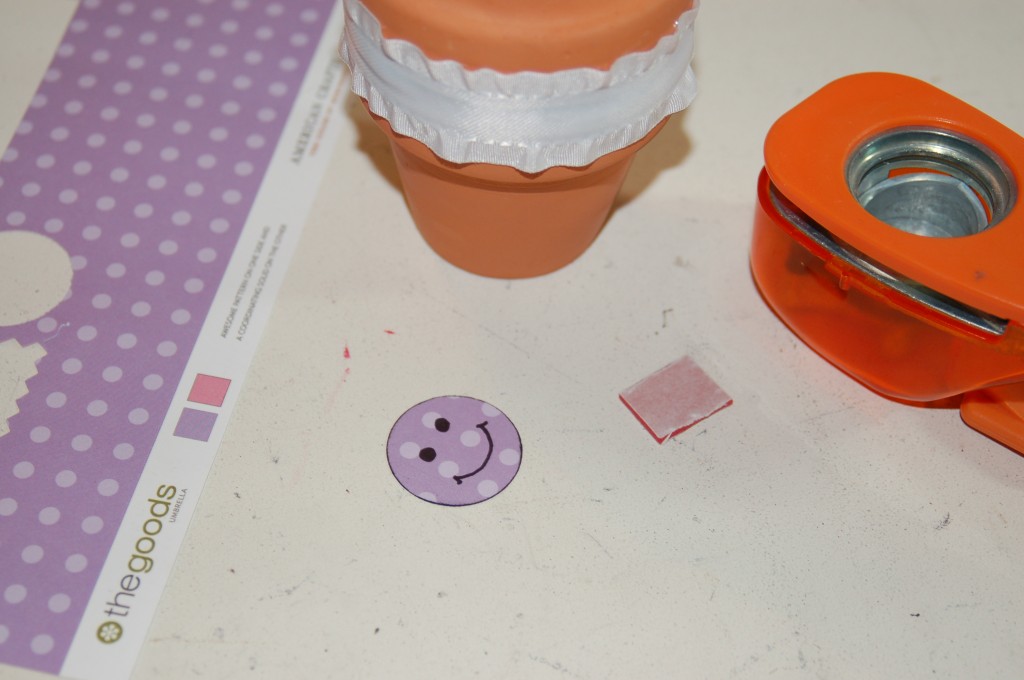 I decided that this girl needed a coordinating purple belt made from twine by The Twinery.  I just wrapped it around a few times so that the color would make more impact in the middle and then tied a bow.
To finish this up, I just added the wings with more foam adhesive.  I love this stuff for how flexible it is.  This pot isn't exactly flat, but most dot-type adhesives are.  With the foam the pieces I attach really follow the curves of my projects and hold in place.
I used vellum in the middle there because I wanted light to shine through the wings of this if it sat on a windowsill or in the center of a table.
Because I can't leave well-enough alone, I added some fun bling to her wings too.  The stones are by The Robin's Nest and I used my Xyron 150 to attach them.
Again, this is the end result…
The simpler version just uses solid die-cuts for the wings, a scalloped circle punch for the face and knotted ribbon for a belt.
I think it would be fun to do these in a  bunch of different colors for a little girl's birthday party, or even to make them into wind chimes or caterpillars.  I get the feeling that my boys are going to want to make some with me next time. (But probably not in purple).
Hope you're having a great week!  Be sure to keep stopping by the Xyron blog for more inspiration and prizes!