This is what I started with.  Their pieces are all very smooth and I haven't seen a flaw in one yet 🙂
I used some acrylic paint to cover the edges of the pieces that would be on the front, and the sides and front of the braces that would hold the whole thing together.  Then I allowed it to dry.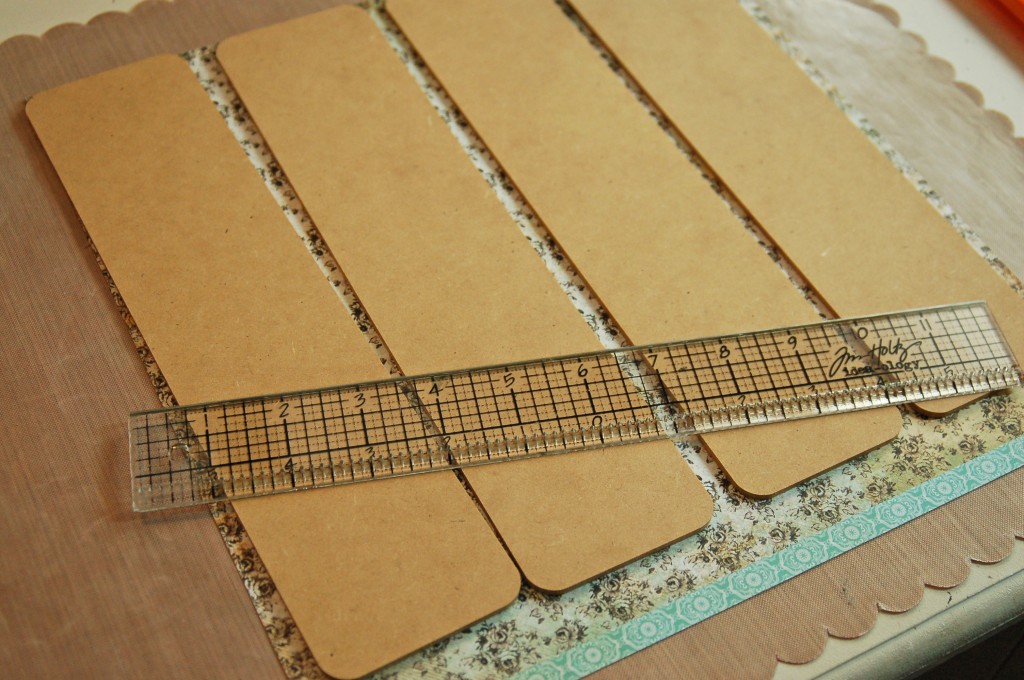 I measured and cut my papers to fit my strips while I waited for that paint to dry.  Everything was very consistent so it was quick and easy.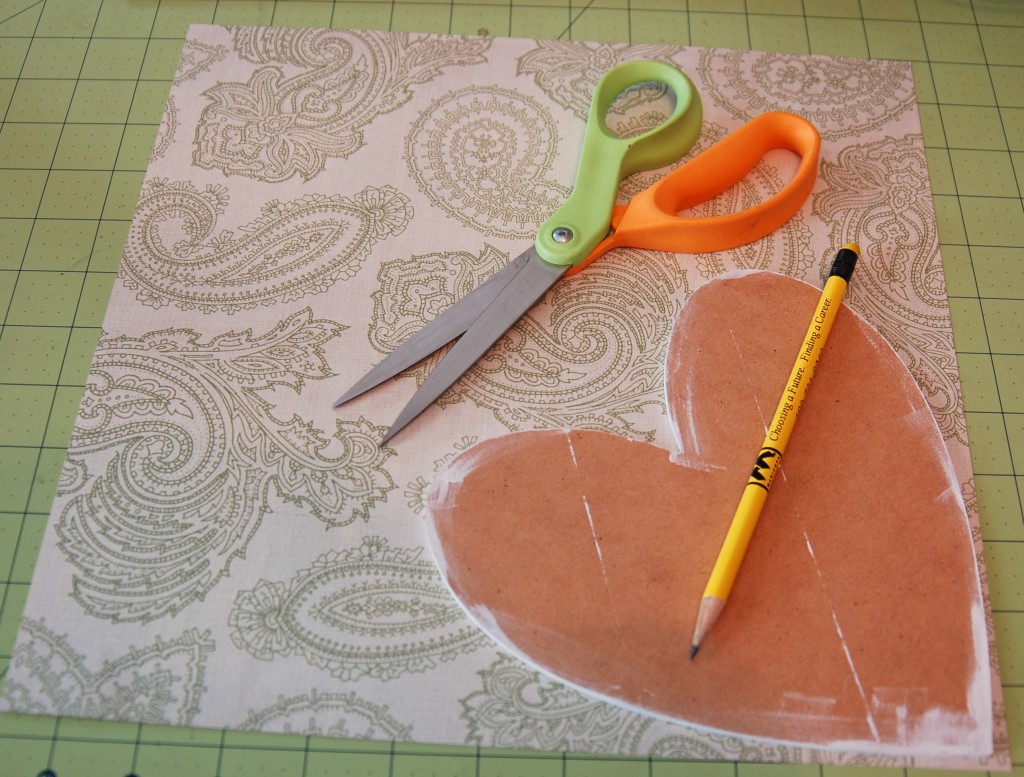 I had to trace and cut out the paper for my heart.
This is what the right side of that paper looks like when it's all cut out.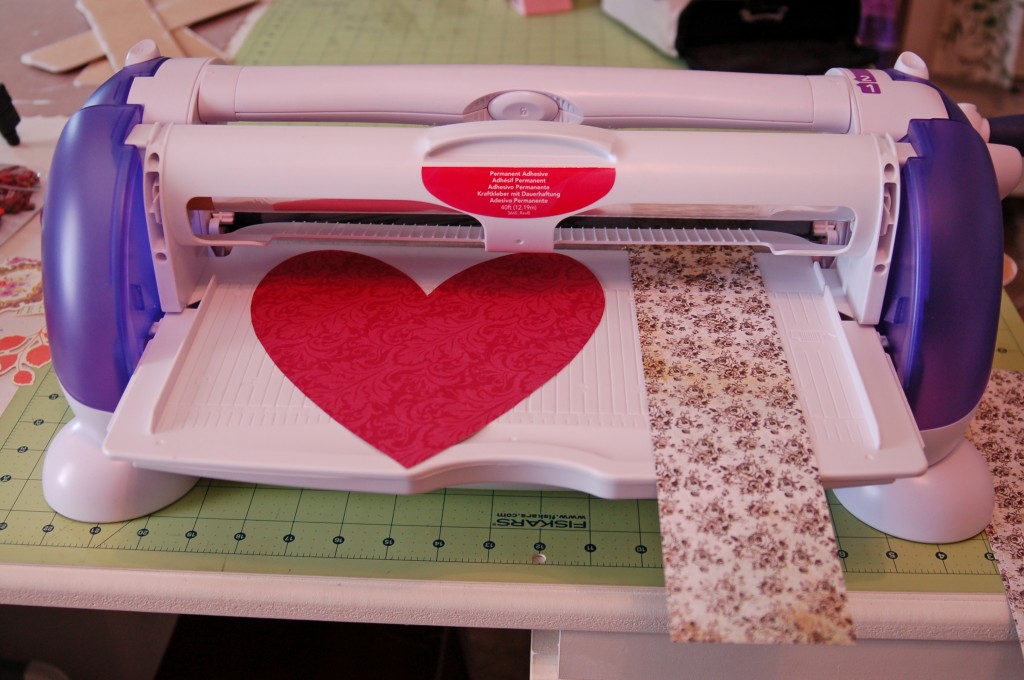 I ran all that goodness through my Xyron Creatopia so that it could all fit in there together.  I could have easily used my 900, though.
Look at all that sticky goodness! 🙂
I attached all those sticky papers to the pieces…
…then I trimmed the edges with my craft knife.
To get a really smooth edge on everything, I sanded the paper lightly.
To add a little bit of an aged look I used ink and a sponge on the edges of the pieces as well.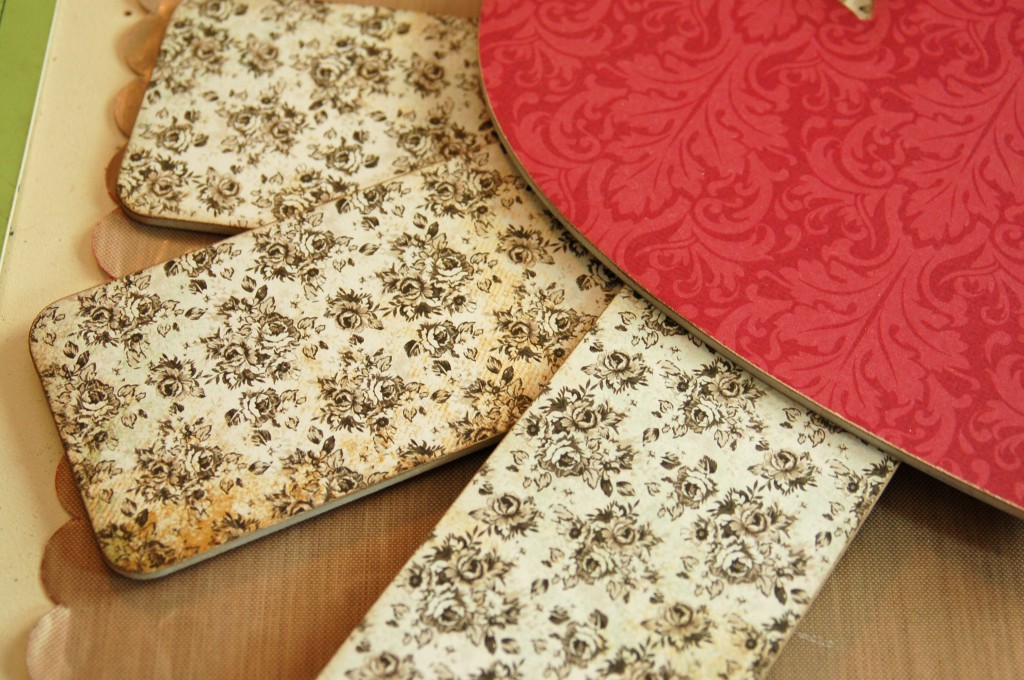 This just added a little something (but it can also be used to tone down a really bright colored paper).
Next, I glued all this stuff together with a hot glue gun.  (In the photo the white pieces are actually upside down.  I fixed that in real life).
And that is how it looked when I was done.
I still needed to attach that heart to my project, and that is where these little guys come into the picture.
What I did was cut myself some one-inch squares from chipboard, then run them through my Xyron 150 machine before stacking them all up like this.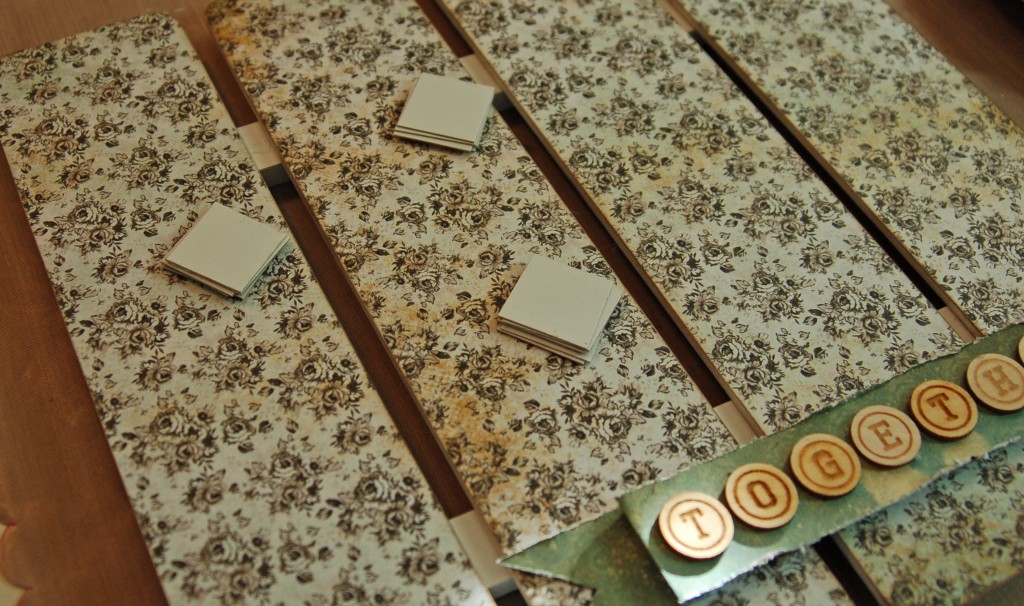 Now I have some (very tough) dimensional adhesive to use on my project.  I placed them where I needed on the project and attached them with hot glue.
I also wanted some matching flowers on this project, so I grabbed another patterned paper and cut squares in three different sizes.
All you do to make these is draw a spiral on the wrong side of the paper.  You cut along that spiral and then roll from the outside edge to the center.  A little blob of glue holds the whole thing together.  Different size squares make different size flowers.
After that, I made myself a little banner to add to the project.  I measured the paper to fit the wooden letters and cut it to size and shape.
I roughed up the edges of that strip of paper, then ran those letters through the Xyron 150 to attach them to the paper.  A few folds and a little trimming and I have the banner.  I attached it to the project with some foam adhesive.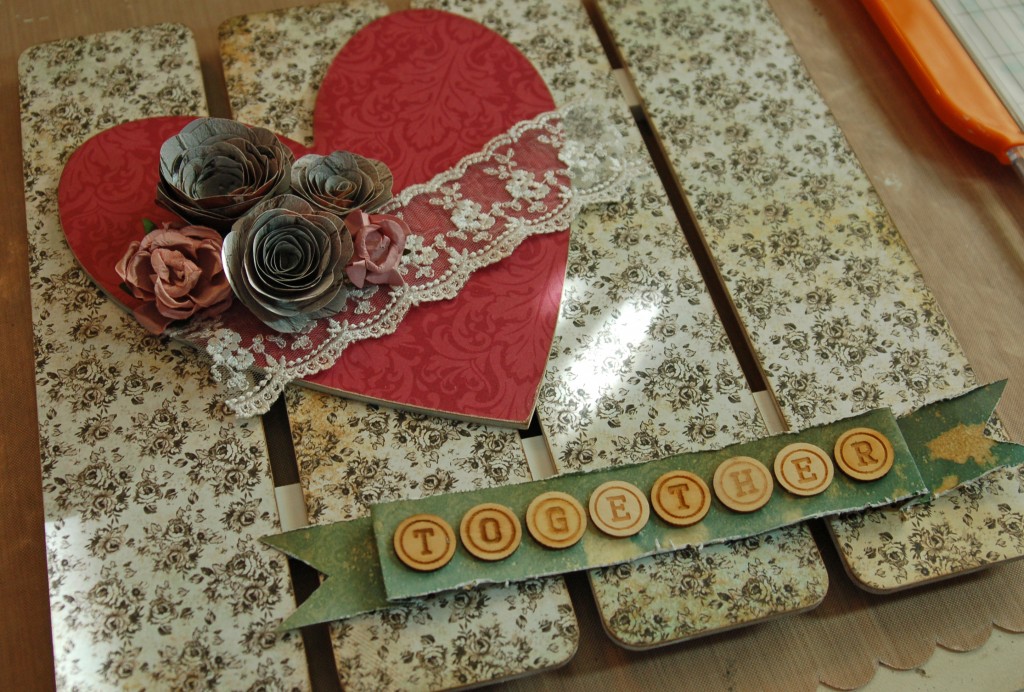 I laid out all of the embellishments for the heart before attaching them so that I could be sure that I liked the layout.  The flowers were attached with hot glue, but the lace went on nice and easy after being run through my Xyron 250.  I trimmed it with my scissors after attaching it.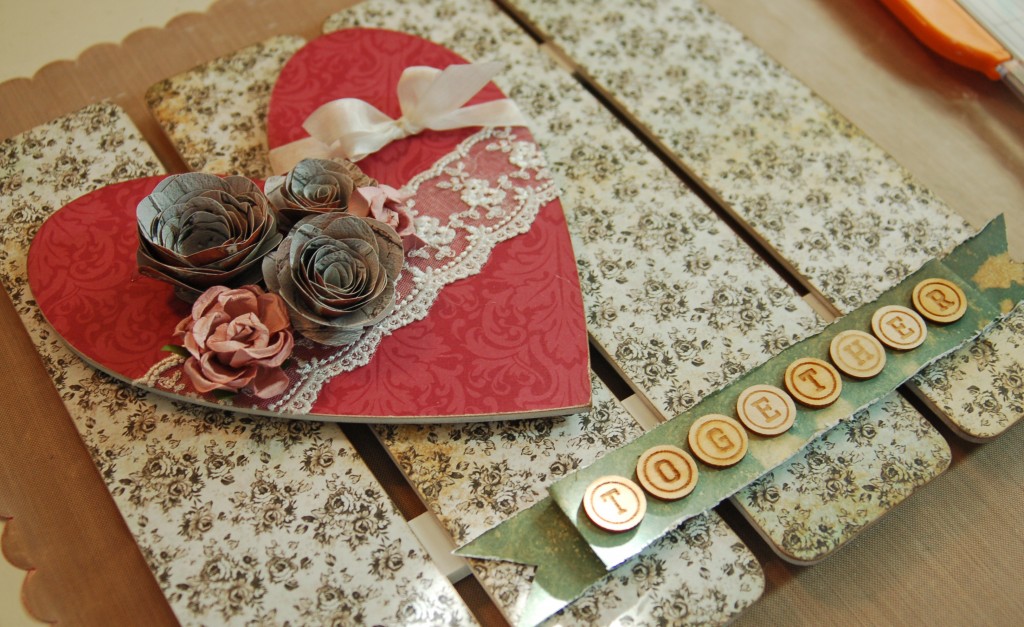 Then I tied on another bow because I felt like it needed one there 🙂
I also wanted to add a little photo of family togetherness, but I decided to mat it first. I like to stick the photo to the paper first with my Mega Runner, then trim the other edges to fit.
I attached that photo with some more foam adhesive (all made with my Xyron, of course).  And with that, the project is done!
Here is that photo again:
And this is a little close up of the embellishments.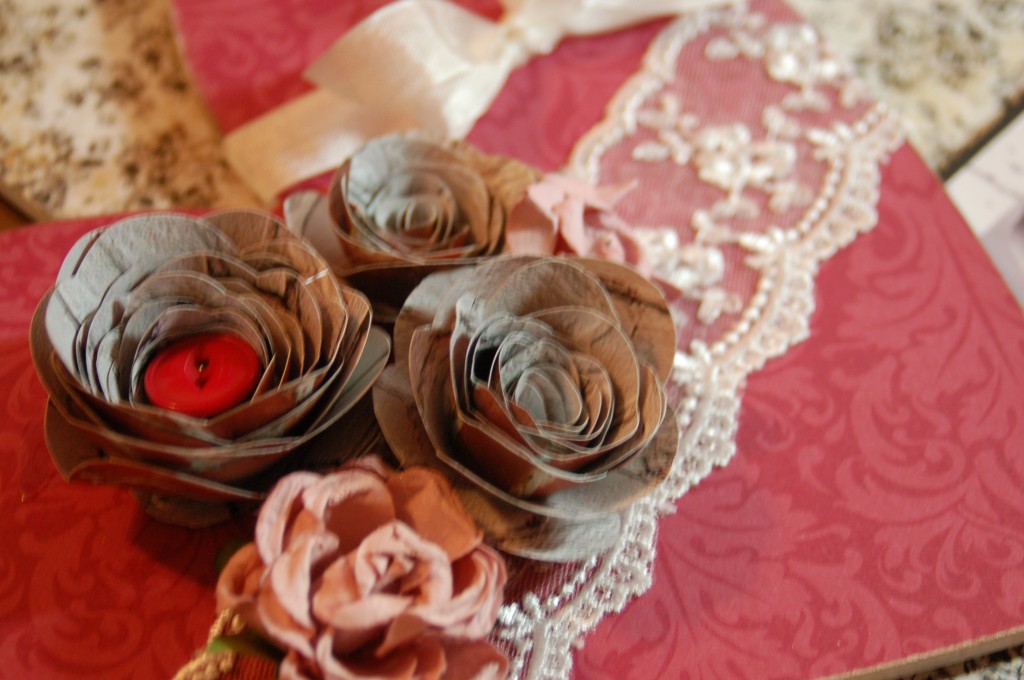 WHEW!  That is a whole lotta photos!  I hope that really shows what I did to make this, and I hope that you like it.  Have any other questions?  Feel free to ask me in the comments or on my Facebook page.
Be sure to stop by the Xyron Facebook page to see more projects and to win prizes!