Please forgive the work in progress blog.  I've had a crazy couple of weeks and I'll get to it soon.
Let's get to that class!
This month at Scrap Chicks it's Christmas in Septmeber!  It may seem early to start thinking about ways to decorate your home for the holidays, not to mention that most of us aren't even beginning to think about what we're giving as gifts this year.  The thing is, now is the perfect time!  School is in full swing (here anyway) and if you haven't started school, you will be soon.  September is a great time to work on holiday projects.  If you're not convinced, let me tell you another little something.  For many of the projects that we're featuring this month, the design team has made two versions for you.  One in a fall theme and one in a winter theme.  Make one now, make one later!  Just what you need to get creative and be ready for the seasons 🙂
I volunteered to post a project on the first day of the crop, and here is what I posted today…
Holiday Shadow Box
I made this Christmas version last year for a DT project. I loved how it came
out and I ended up making a bunch (and even selling ten of them to a friend).
They're cute and very easy!
Go here for the tutorial for the basic (smaller) version of the box.
Now, this year I decided to do a Halloween version in a much larger size for Fall
decorating.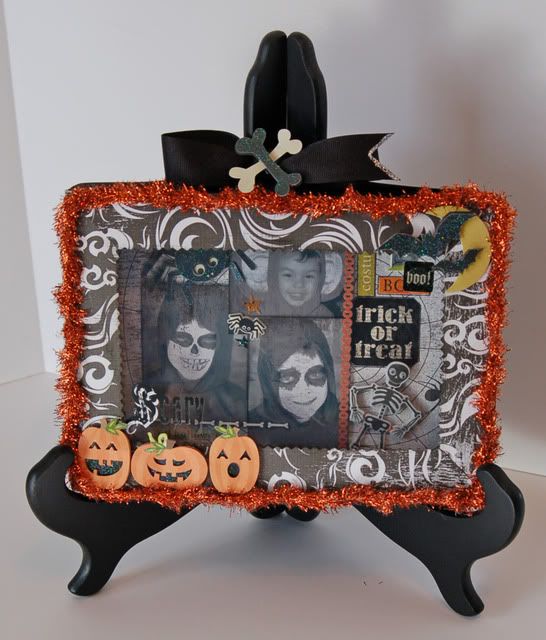 The measurements are different on this one (I started with an 8.5×11 piece of
chipboard) but the principle is the same. I used the hot glue gun to attach
everything and put it together on this one too. No glue dots. Goodness knows the
kids will mess with it and it will take a beating.
Let me know if you have any questions or need help figuring out the measurements for a different size box!
There you go!  Hopefully this post works out (since it's the first one I'm doing here on wordpress).  Have a great day!