Archive for the 'altered' Category
Where have I been? School. So much school, you guys. Currently it's summer school that's kicking my booty. Fortunately though, I've been able to spend some time being creative. It helps me to relax and feel great in a world where my degree is going to take forever.
I wanted to share that although I haven't been good at all about sharing my work here, I have been putting things up over at the Basically Bare blog (where I am fortunate enough to be a part of the design team). This fabulous mini is up over there today. Find it here.
I have also been working (because apparently I have too much spare time) and spent last year as the president of the PTO at the elementary school (because I must be crazy).
I also made some huge changes in my diet a little over a year ago (in case I forgot to mention it) and that has been a real party 🙂 Not the kind of changes that have made me lose weight, but the kind where I feel better because I'm not eating the foods that were obviously making me sick. (I miss you, dairy products).
Anyway, head over to the blog and click on the label for my name and you can see all of the things I've made since the beginning of the year. There's also a Facebook page you can check out (and support a small business).
Thanks for stopping by!
Please forgive the work in progress blog.  I've had a crazy couple of weeks and I'll get to it soon.
Let's get to that class!
This month at Scrap Chicks it's Christmas in Septmeber!  It may seem early to start thinking about ways to decorate your home for the holidays, not to mention that most of us aren't even beginning to think about what we're giving as gifts this year.  The thing is, now is the perfect time!  School is in full swing (here anyway) and if you haven't started school, you will be soon.  September is a great time to work on holiday projects.  If you're not convinced, let me tell you another little something.  For many of the projects that we're featuring this month, the design team has made two versions for you.  One in a fall theme and one in a winter theme.  Make one now, make one later!  Just what you need to get creative and be ready for the seasons 🙂
I volunteered to post a project on the first day of the crop, and here is what I posted today…
Holiday Shadow Box
I made this Christmas version last year for a DT project. I loved how it came
out and I ended up making a bunch (and even selling ten of them to a friend).
They're cute and very easy!
Go here for the tutorial for the basic (smaller) version of the box.
Now, this year I decided to do a Halloween version in a much larger size for Fall
decorating.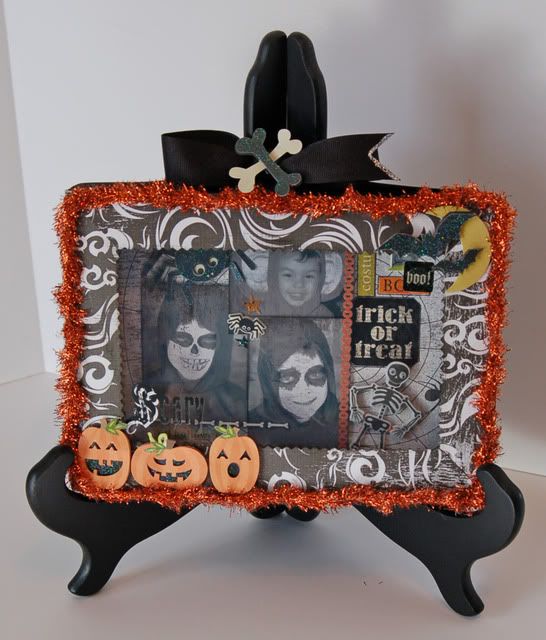 The measurements are different on this one (I started with an 8.5×11 piece of
chipboard) but the principle is the same. I used the hot glue gun to attach
everything and put it together on this one too. No glue dots. Goodness knows the
kids will mess with it and it will take a beating.
Let me know if you have any questions or need help figuring out the measurements for a different size box!
There you go!  Hopefully this post works out (since it's the first one I'm doing here on wordpress).  Have a great day!
I had another project on the gel-a-tins blog this last week and it may be one of my favorites yet. The Witchy Poo stamp set comes with the cutest banner and I thought that mini size would be perfect used in a cupcake (the way a slightly larger one looks cute on a cake). I also used my Cricut to cut out some cupcake wrappers and stamped them to match. I even use the same banner stamp (attached to my Fiskars Stamp Press) on a curve to stamp around that bottom edge. I think these would look great on a treat table!

I hope you're having a great weekend! Don't forget about the Scrap Chicks crop that's going on right now too! We'd love to have you come play and win some prizes! Link is in the side bar!
Woot! I am having so much fun playing with these stamps! The detail you get is really amazing. I also used some scented embossing powder tonight and it is so cool! The color is silver and it's called Storm. It's a masculine scent and I like it a lot. These aren't like scratch and sniff scents, think more like a yummy candle. They smell great! Anyway, check out my project!
I used some frames I was given to make these cute little shadow box style decorations for my house. I can set them on a table or hang them on the wall. Can't wait to use them! That Halloween banner that comes in the Witchy Poo set might just be my new favorite stamp.
Supplies Used:
Witchy Poo stamp set and Storm scented embossing powder by gel-a-tins
Cardstock by Coredinations
Texture rollers by Xyron and texture folder by Provo Craft
Versamark and Staz-On inks
Twinery twine, Daisy D's stickers, Martha Stewart accents
Xyron adhesives and a hot Glue Gun
I still had my spring wreath up until earlier this week and I decided it was time for an update. I had already replaced the flowers that weren't doing very well in the heat and I wanted the rest of my front porch to look nice too so I grabbed some things at Joann's on Thursday.
This is what it looks like now! The wreath is pretty simple and I just made with with things that were on sale at Joann's.
This little sign was half off at Joann's too and it cost me less than $10. I really like how it looks there.
The wreath. Pretty simple, but I like it. You can definitely see that red, white and blue when you drive by :)
To the left of the door. We got the big (and very heavy) letter "B" from one of Glen's brother's. 
My new (and not dead) flowers! The flags came three for a dollar at Target. I bought the moisture control soil and it really seems to be helping. Everything in the yard has a bubbler, but these are by the door and have to be watered with the hose. It's nice that they don't have to be watered every single day to keep them from dying.
Well, I hope you like it. I do!
Today I thought I'd share some gift bags that I altered for Xyron. I seem to have a birthday party to go to almost every week this summer. These bags were very affordable at Target (they were 99 cents to $2-3). They come in a great kraft color and the ribbon handles were included. You could easily use your scraps to make these bags for any occasion.
The dies are all by Spellbinders for the Xyron Creatopia. I really love that flower on the pink bag. I see lots of those in my future 🙂 

On getting a good picture of this project 🙂 Sorry. I've been stressing about it for a week, and it just isn't a great picture, but I hope you'll still appreciate that it's a cute project!
Silhouettes are a tad popular right now, and I thought about this one night and decided that I'd do this project to add a little something to my Easter decor. I like how they turned out, but I did manage to buy two out of three frames with no built in stand and I have to do something about that. What a dork!
I searched the web for pictures that I could trace in my Create and Cut software. Cut the chicks out in two different sizes and flipped one. I used mostly scraps of paper for everything else. Clouds were cut freehand and all the inking was done with a sponge for an antique sort of effect. I hot-glued the goodies to the outside of the frames because I like that look. I also chose three different frame styles to make it have that eclectic look. (They are all white, not that you can tell from this awful picture).
Anyway, thanks for looking! I hope you're having a good time getting your house ready for spring!
A couple of weeks ago I was asked to make this project for Xyron to use in Michael's. It'll be on a tear off sheet in the aisle with the Creatopia once they're in stores (at least I think so 🙂 ). I don't have instructions to share right now, because they will be in stores, but I thought I'd share it so you can at least see the project. I was pretty happy with how it turned out!
The supplies were all purchased at Michael's, and the dies that I used are the new Spellbinder's dies for Xyron. They're really pretty!
Thanks for stopping by!
I feel bad when I go a little while without crafting and have nothing new to post. This time, however, I have actually been crafting a lot, but it's either stuff that I can't share yet, or it's stuff that's keeping me so busy that I'm not posting like I should. Sorry about that!
Today I had a little time so I decided to take the stuff I bought for a new spring wreath and glue it together 🙂 I made us a new wreath for the front door last year, but a little bird decided that it would be the perfect place to build a nest. I had to start over this year!
So…here it is!
You may have noticed that I have a thing for orange right now. I liked the spring bunch of flowers with the orange in it, and I already had the ribbon from Costco, so that's what I went for. Last year's wreath was pink and white. I guess we'll see which color combo the birds like more.
My flowers are still alive by the front door too! That's pretty nice considering that I planted them in October or November.
I'll be back soon with more projects that I can share 😀
I had never done anything for St. Patrick's Day until I was in high school. I got a job at Bennigan's my sophomore year and when I showed up for my first St. Pat's I wasn't even wearing green. I kept getting pinched and EVERYONE that came in wanted to know why I wasn't wearing green. Apparently having green eyes isn't enough 🙂 After working there for a total of over four years, I got into the holiday. It's a fun, crazy night when you work at an Irish bar!
As a grown-up, I don't get to celebrate anymore, but that's okay 😀 I did want to do something for the kids this year, so I baked green cupcakes with green sprinkles and I made them these little pot of gold treats.
They were pretty excited. I actually had some help with these from the lovely and talented Emma 🙂 My friend and her daughter Emma came over the other day to learn a little about quilting and her Emma was a big help. She painted these and put all the goodies in them while her mom sewed and I ironed.
Have a great night!